Carman sent in this wonderful clip of the Marvel Superheroes at Six Flags circa 1979, joy!
David T sent in a big pile of goodies recently and I think my favourite of all is this cool pic of Captain America shaking hands at Six Flags Great Adventure in Jackson NJ in 1976. That shield is awesome..
Matt submitted these cool black and white shots of Captain America and the Hulk at the opening of the Bangor Mall (in Maine, of course) circa 1978. He also believes he has shots of Spider-Man and Darth Vader from the same event, stay tuned.
Lynch sent me this great promo photo of a Hulk appearance from 1978, awesome.
Here's my pal Jason Lenzi from Bif Bang Pow! with a Cylon at Universal Studios circa 1980, as if I needed more reason to envy Jason.
Kelly sent in this great shot from 1979, adorable.
Robbie also sent in this great late 70s Monkey Wards appearance of him and Spidey. How cool is that Spider-Man? He's got killer eyes (kind of reminds me of Deadpool) and Web Shooters? Those details win me over.
PlaidStallions Toy-Ventures Magazine #2 is now available and it's been called "not only an entertaining read, but it's also an impeccable work of reference" by PopCult.
Another great shot from David, here he and his brother meet Batman and Wonder Woman at the Toys & More store at the Walden Galleria in suburban Buffalo. .
This wonderful shot of David and his brother meeting Jack Napier was taken at the (now sadly defunct) Appletree mall in Cheektowaga, NY. .
Simon of The Art Hustle sent in this glorious shot of his wife circa 1978 in Jackson, Mississippi at a movie theatre event with "R2 D2". Note the wonderful hand painted Star Wars collage in the background.
Bill sent in this awesome shot of him getting choked by the Phantom of the Opera at Universal Studios, I'm assuming by the Fonzie shirts this is 1976ish. I rarely get Uni Monster appearance shots submitted, so I absolutely love this.
Mathew sent in a series of fun 80s mall appearance pics, starting with this fun one of a happier than normal Skeletor at a Toys R Us appearance. Thanks Mathew!.
Also from Mathew is this shot of Man E Faces at the same Toys R Us Skeletor was in. Great costume! Also in the picture is the lessor known MOTU character, Clerk-o! Thanks Mathew!
I absolutely love these shots of Wonder Woman, who was making the rounds in Austin Texas circa 1975. I get plenty of Spider-Man here, not that I'm complaining (keep 'em coming!) but it's especially nice to see DC's first lady holding court.
Wasn't I just saying something about how I'd never seen many Wonder Woman appearance shots? Well, when it rains it pours because not only this another great shot of Diana Prince's alter ego, it's a vintage toy store shot to boot. I know this appearance took place in 1978 because I can see a shelf loaded with Pressman Space Creature mask kits right behind. Joy.
Larry circa 1976 at a Columbus area car show with my favourite shield slinger
Larry a few years later at a 1980 Columbus area car show witha not so dark Dark Knight.
When Chicago area Toy Store "Toys by Rizzi" opened, they hired the big guns, Spider-Man! Also in attendance was Big Foot but I don't have any photographic evidence of that sadly....
Tim sent in the great picture of him and Spider-Man at a Boscov's in 1977, he's got more pictures and a wonderful story surrounding that day at his blog . Click here to check out Tim's blog and "The day he met Spider-Man (sort of)"
Here is a snapshot from that day as well.
Hopping over to the UK for this mall appearance with shots from a 1979 appearance of Action Man in Blackpool. To those not in the know AM is the UK version of G.I. Joe, although Action Man had more of a paramilitary flavour and was wildly popular, in 1979 he was outselling Star Wars.
Here Action Man presents a "sophisticated video cassette recorder" to a prize winner, fancy! The winner designed the best store window display for Action Man, more on that later.
Scott sent in this first in a series of three awesome pics that were taken at an event called the "Frogtown Frolics", at Thompson Park in Colts Neck, NJ. It's an appearance by the late 70s Marvel Hulk costume. Scott also laments that when Spider-Woman visited Child World in 1981, he couldn't get close enough to her as he had a big crush on her. That's something I totally get, I still have a thing for that character...
Here's Scott C with another shot from "Frogtown Frolics", at Thompson Park in Colts Neck, NJ. This time it's Batman and Robin and even though Scott admits they looked kinda bogus, it was still a big thrill to meet heroes in costume like this. It looks to me like the 36 year old "boy wonder" in this pic has a perm, "Holy Mike Brady!"
Completing the trifecta of awesome sent in by Scott during "Frogtown Frolics", at Thompson Park in Colts Neck, NJ. It's the classic Spider-Man appearance shot, notice that Scott is clutching a Mego Spiderman doll. Scott equates this event as not unlike "The Beatles at Shea Stadium" it's not hard to see why.
Cat sent in this "1970something" shot of him shaking hands with none other than Burt Ward in full Robin regalia at a Rockford Car Show. Ward still looks like he jumped out of 1966 here, so it really must have been to meet Robin live and in person like that.
more of the Apes visiting Plymouth Hoe circa 1977. Again, I cannot begin to explain how wonderfully cool and trippy this all is. Check out Derek's awesome blog dedicated to Plymouth local histoy and stay tuned for much more coolness from him
General Urko
The Only good human is a dead human
David sent in this vintage bit of awesome, at a car show in 1977 Cookie Monster decided to chow down on David, the stuff of schoolyard legend. This is our first (but hopefully not last) Sesame Street submission, great stuff!
David after getting chomped on by Cookie Monster also sent in this fun shot of him shaking hands with the dark lord of the Sith in '77.
As cool as homemade Darth Vader's and mall Spider-Men are, you gotta love a vintage picture of a star signing in costume. That's why I pretty much exploded when Derek (the man responsible for this awesomeness) sent me this pic of 1975 era Tom Baker in full timelord regalia in Debenhams, Plymouth. I'm soooo jealous of that kid right now and I adore the home made Tardis behind him. Check out Derek's awesome blog dedicated to Plymouth local histoy and stay tuned for much more coolness from him.
Jon sent in this terrific picture of his brother Ryan encountering a rather home made looking Lord Vader at Karber's camera store in Hamden CT. I think the chest panel is from Phantom of the Paradise.
David Smith sent in these rocking shots from his birthday party circa '77 or '78ish.
Spidey crouchs down for a shot with David's 85 year old Grandmother, he mentioned that whoever was in the suit had a great sense of humour, which totally fits.
David's folks pose with the weird wall crawler. These pictures are really cool and special, what a fantastic birthday this must have been. Thanks David!.
Lou sent in this cool shot of his sister, which he says is it is from a haunted house across from where "Bugs Bunny Meets the Superheroes" was playing. Dig her cool Wonder Woman shirt. We don't get enough Monster encounters here, this is only our second one. Come on People!
David T sent in this great shot of him and the Six Flags Spider-man, which is the best Spidey I've ever seen I might add. Love the cape, I personally used an orange towel, it's a rag now but I can't bring myself to throw it away.....
JD who sent in that great Spider-Man picture from last week also sent this awesome Darth Vader appearance from 1980 at the Parmatown Mall, also in the Cleveland area. The store was either Higbees or May Company, he can't remember. Just in case you don't see it, there is something that sets this apart from other mall shots:
JD sent in this great vintage shot of a Spider-Man appearance in Cleveland 1978 although he can't quite remember the store it looks like Spider-Man is in the Office Supplies section.
If that didn't rock enough, JD also submitted this uber cool shot of what the "Free Spider-Man Button" looked like from last week's ad. Very cool!
Scott W sent me this tres cool shot from a 1975 Long Island store appearance by Cornelius from Planet of the Apes. This sort of thing was put together by Mego and we were richer for it.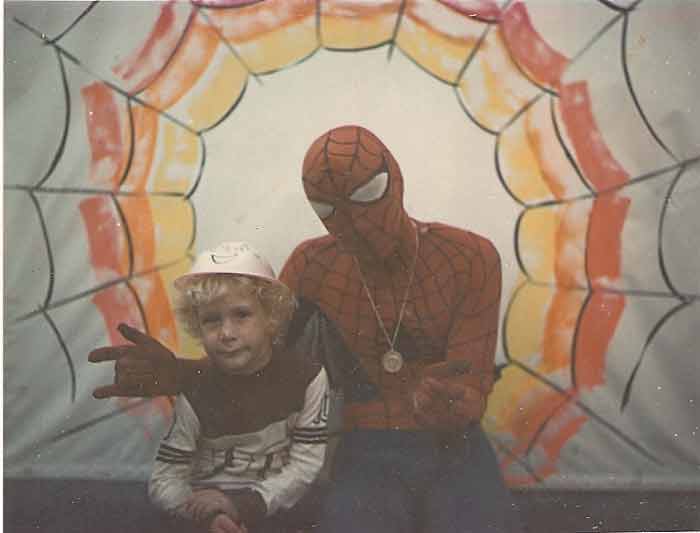 TJ sent in this terrific shot of Spider-Man at the Canadian National Exposition (We call it the CNE) in 1979, I love Spider-Man's medallion!.
Many thanks to Chaz Rose for this killer pic, Chaz tells me he brought a Mego Spiderman and asked him "Is this You?" How awesome is that?
Paul Rigsby sent in this picture of him at Spider-Man at the Gateway mall in Jacksonville Florida in 1979. Paul wanted to point out his red plaid outfit is not on purpose, he had no idea Spidey was going to be there, he was, as he puts it "A poster boy for bad 70s fashion".
Dave aka Kinostadt at the MegoMuseum Forums sent in these awesome additions to the Superhero Mall Appearance Gallery. This is Spiderman from a 1979 mall appearance in Minnesota. Dave is holding a piece of paper top get Spidey to sign.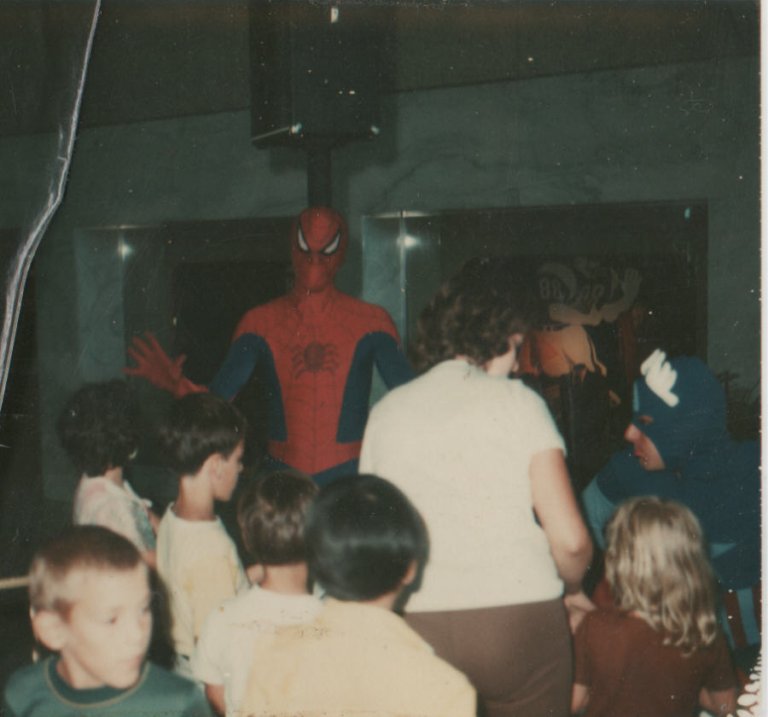 Erick Bognar supplied this great photo of Cap and Spider-Man at the Chapel Hill Mall in Cuyahoga Falls, Ohio sometime in the mid 70's. According to him, Spider-Man and Cap handed out pins. Check out Erick's terrific Blog here
Wes Booth sent in Captain America at the Eastgate Mall, Indianapolis around 1979. Wes makes a great observation that he didn't normally roll around in a jacket and turtleneck and slacks, his mother made him dress up to meet America's greatest hero.
Here's the shot that makes me crazy jealous, Wes holding Cap's shield. It doesn't get cooler than this! Expect more shots from Wes all this month, he's a real treasure trove.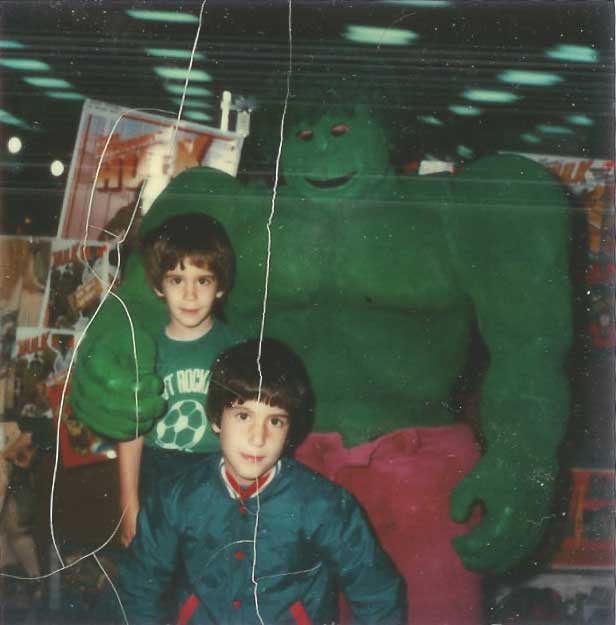 Here's Ron Peritore in the early 80's in Long Island meeting the Incredible Hulk, the same one from the Marvel Superheroes Live and In Person Catalog. Notice the 12" Mego Hulk dolls behind Ron, so awesome...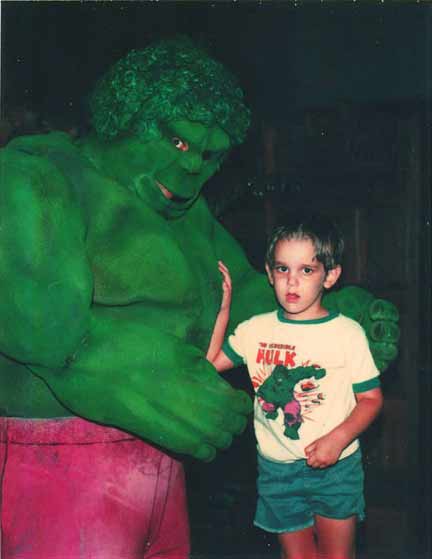 Carlin Trammel (of the great blog Nerd Lunch ) sent in this early 80's Hulk appearance in Charleston, SC. He kind of looks scared....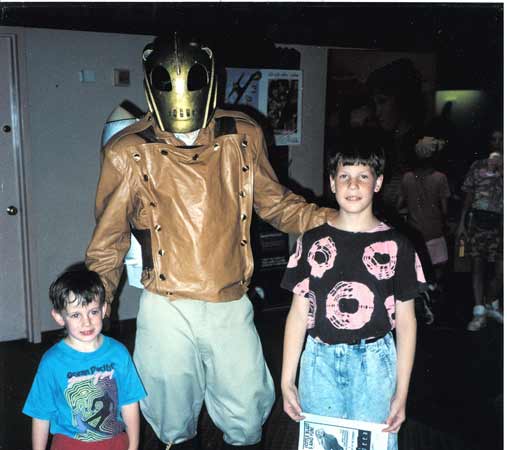 Mike T submitted this more recent mall appearance photo, it's from 1991 (that's what i consider recent) and it's his kids with Dave Steven's classic creation, The Rocketeer at Potomac Mills Mall near Woodbridge, Virginia . I didn't know there were appearances such as this but it makes total sense considering the costume.
Mark sent in this wild Incredible Hulk Appearance at the 1979 Philadelphia Car Show, also in attendance were Eric Estrada and Scott Baio, hopefully he can find those pictures.
This 1980 Marvel promotional photo shows kids treating Spider-Man not unlike the Beatles in 1965, I love the kid hugging Spider-Man with his eyes closed.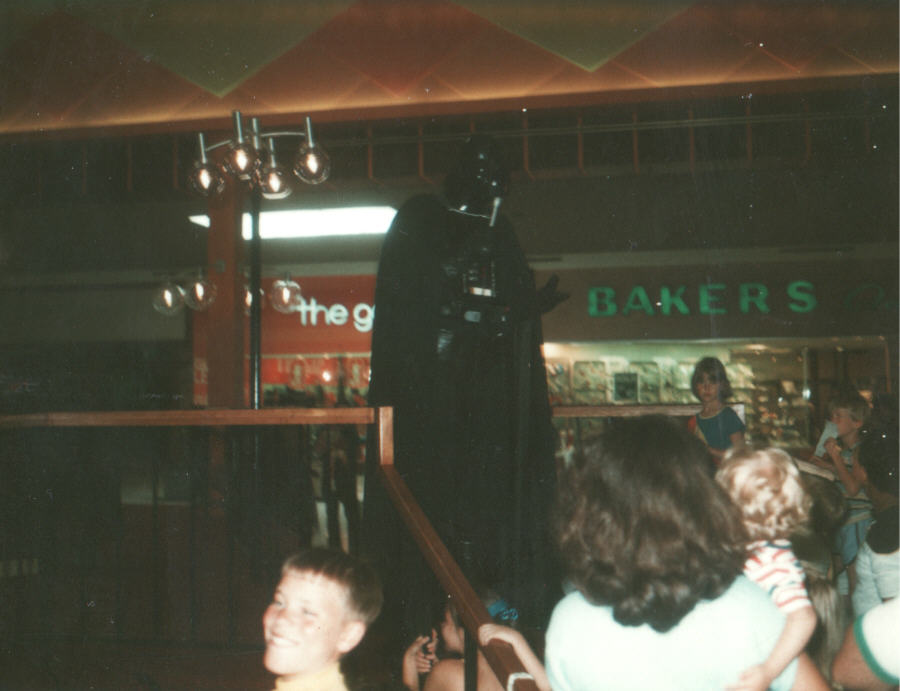 Erick also provided this Darth Vader and Jawa Appearance from the late 70's at the Summit Mall in Akron.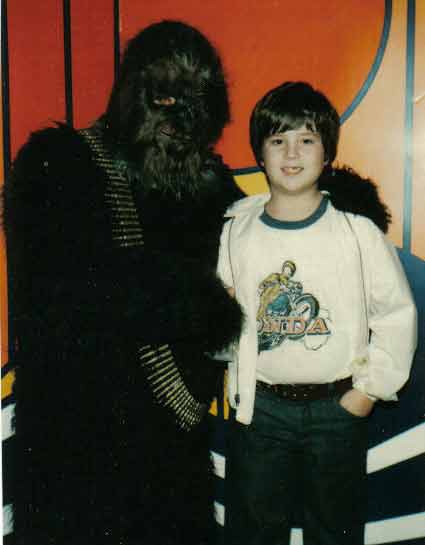 Chris sent in the wicked shot of him and Chewbacca at the Albany Mall in GA. in the summer of 1980.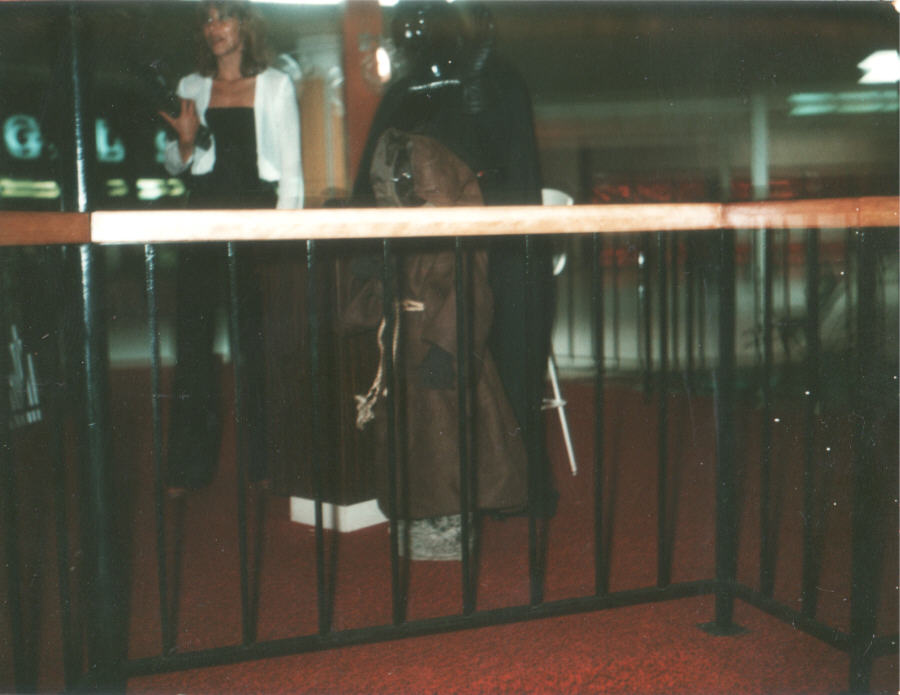 I'd have been all over that Jawa!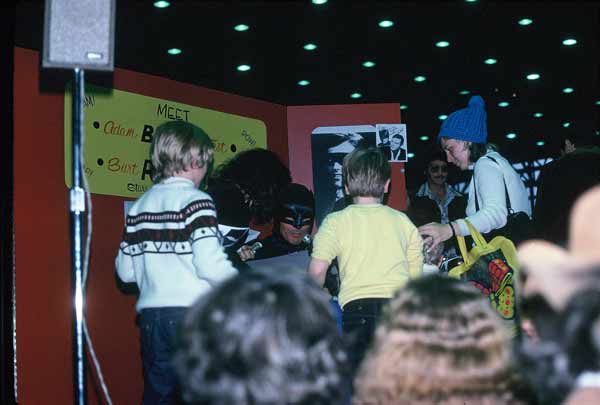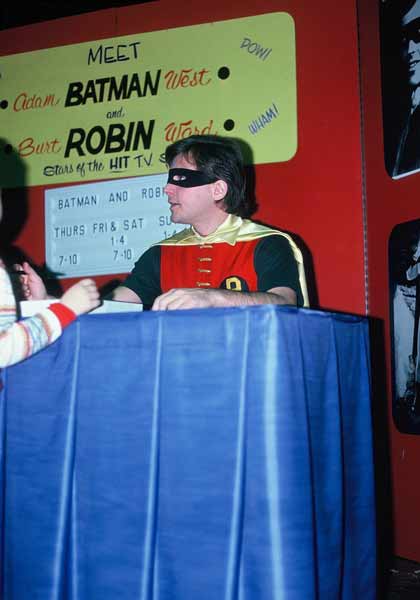 Paul Novak sent in these amazing shots from Chicago in 1975. As superhero appearances go, this is the top of the food chain. Adam West and Burt Ward live and in costume as Batman and Robin. Even though both mean still tour, you'll never see them in their bat duds again.
Chris Curely sent in this picture of Adam West in the bat suit circa 1985, he looks great for a man in his fiftes but then again, Adam West still looks good
Jason Lenzi sent in these awesome additions to the Superhero Mall Appearance Gallery This was at the B Dalton's in the Maplewood Mall, in St. Paul, MN, November of 1977. This is pretty early for a Star Wars appearance.
Jason proudly displays his signed Star Wars calendar and mentions he bragged to his friends that he shook Vader's hand and how strong his grip was. You may recognize Jason's company Bif Bang Pow! nowadays, they make some of the coolest collector toys out there.
A Mego fan sent in this rare shot of a Planet of the Apes store appearance in the mid seventies, note the Mego Apes Play sets and the Addar model kits in the foreground.
Erik sent in this great early 80's Vader appearance, I love that Iron On Empire shirt! Only as a kid was it cool to wear the shirt of the band you're going to see..
Thomas Berry sent me this wonderful flashback. It's the Lord of the Sith himself at Joe Romania Cherolet Dealership in Eugene, Oregon back in October 1978. Thomas also mentions a Jawa but he seems to be camera shy.
After a year of accumulating other people's encounters with Spider-Man and Darth Vader, it never dawned upon me that I had anything to add until I found this. This is probably around 1980 and at the Metro Zoo, who used to use 70s super celebrity Bigfoot quite extensively in their marketing (you can still see the painted footprints there) I have no idea who the picture wrecking kid in front is but I do remember wanting to leave the zoo early because it was "Planet of the Apes Week" on City TV. Yes, I was always this way.....
Come with me human child and let me show you some high quality Mattel toys, dig the entire wall of BSG figures in there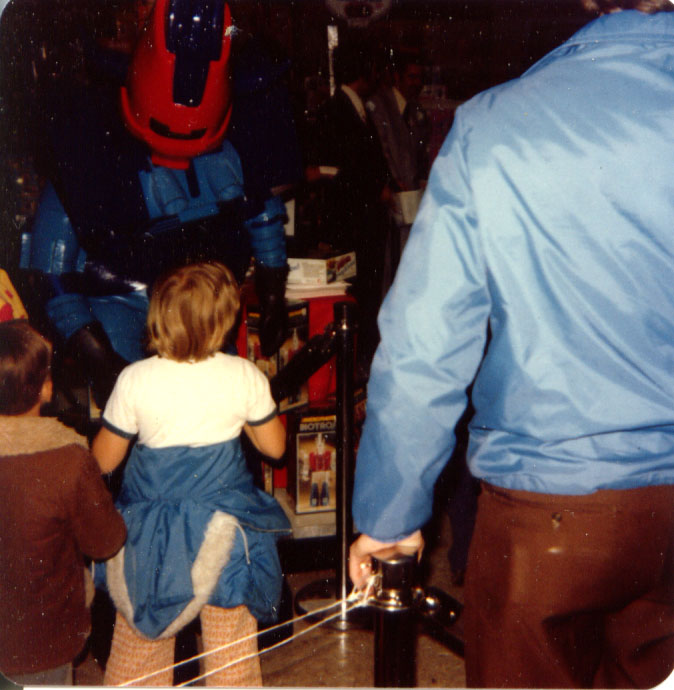 Doug Knoth sent in pics of an appearance of Spider-man and Acroyear from the Micronauts at his local Korvettes in the Masapequa mall ciurca 1977. Note the giant display of Mego Biotrons in the background, I'll take ten!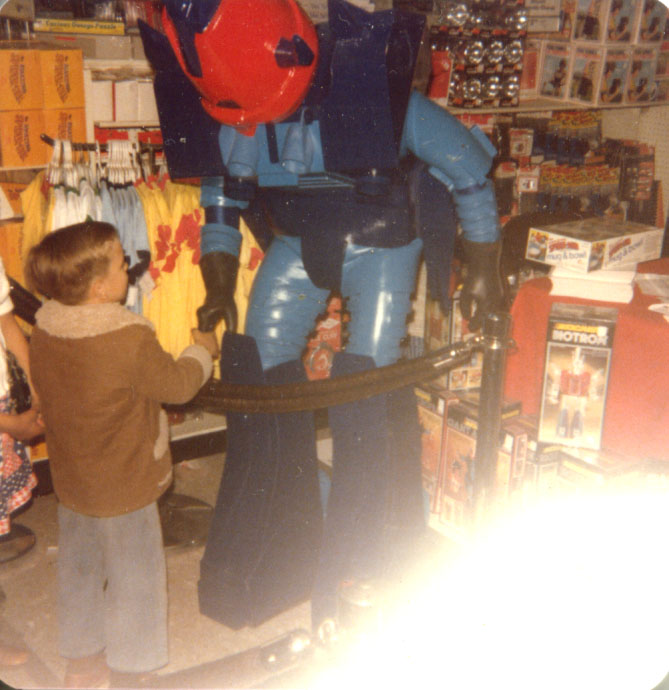 Doug shaking hands with Acroyear, seems to be a Spiderman dish set behind Acroyear.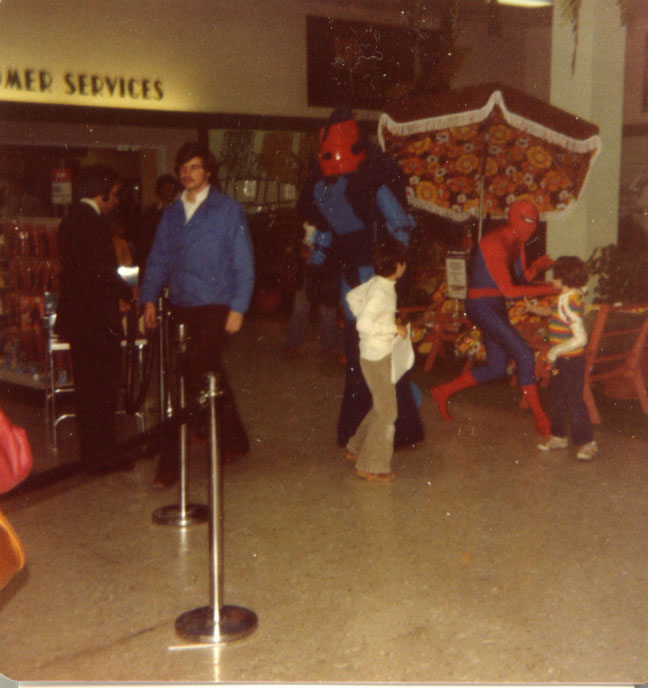 That's a whole display of carded Mego Superheroes in the far left folks....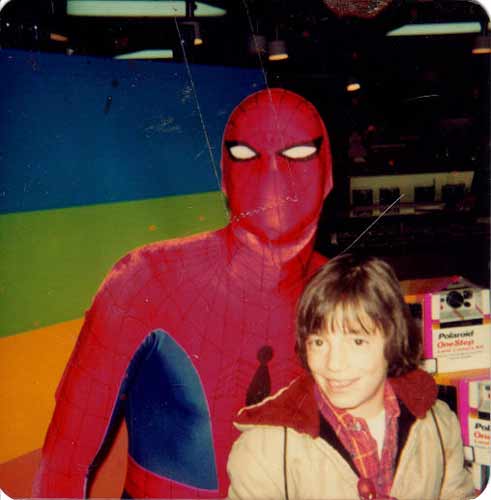 New to the site is this image of Lou and Spider-Man from days past, stay tuned for more input from Lou in the future. You can check out his Jaws Page here.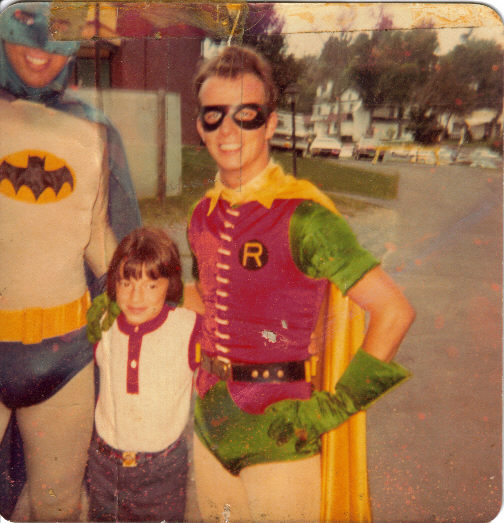 Lou also sent in this picture of him with Batman and Robin, this is from a "Meet the DC Superheroes" review show I've blogged about in the past. Lou promises more pictures so stay tuned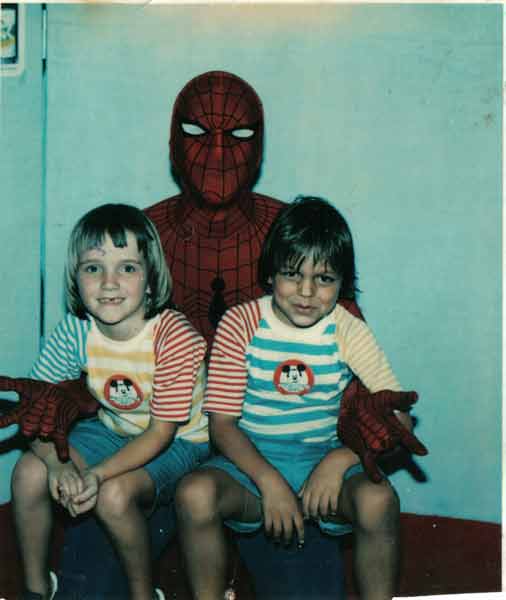 James Powell sent in this great mid seventies shot of him and his sister meeting Spidey in Orlando,in case the shirts weren't a big enough giveaway.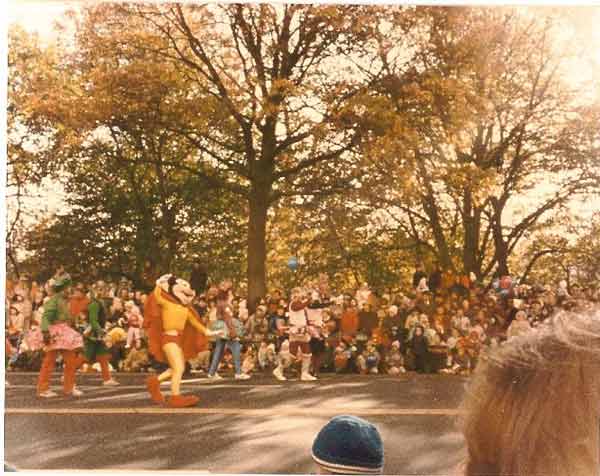 Darryl Heine sent in these great shots of the Macy's thanksgiving parade cira 1984, lots of super people evident including Mighty Mouse.
The Man of Helium.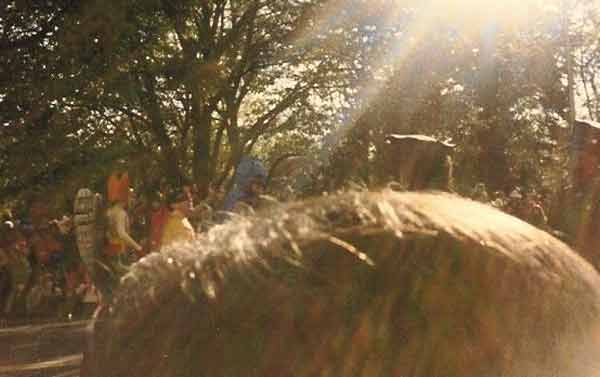 Down in Front! This picture is just about the only time I've seen a public appearance of Hawkman, however it's not surprising considering he was part of the Superpowers line up..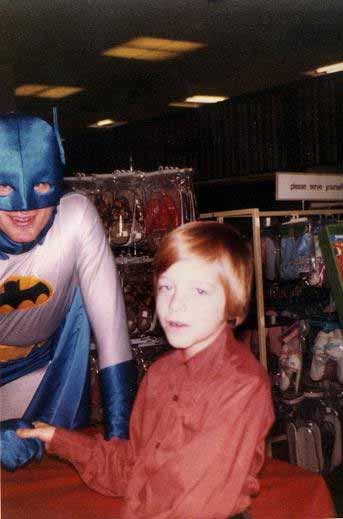 My pal Bill (aka Wee67) from the Megomuseum forums sent over this grooving shot of him meeting the caped crusader in what looks like a shoe department, cool shirt Bill!.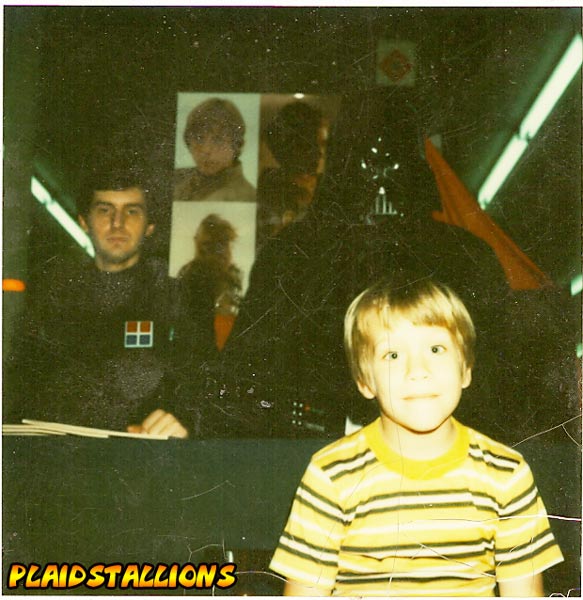 Daniel Preston sent in this fantastic pic of Darth Vader at the Mac Dade Mall Woolco in PA, Vader choked that Imperial officer when his marker ran dry.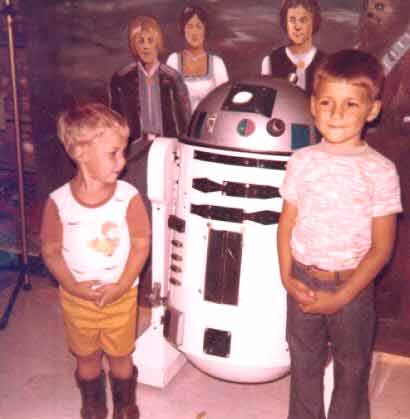 Chuck sent in this picture of him and brother Chris with R2D2 in front a wonderful Star Wars painting. This was at a HyVee grocery store around 79-80. Chuck remembers Chewie and Vader also being at this store (he would not go near Vader and cried because he was a bad guy) and promises more shots in the future. Thanks Chuck!
Zachary sent in this cool shot that has to be from 1977, seeing as it was the height of "Kong Mania". He tells me he's not sure why he's giving Kong directions in downtown Manhattan but it sure makes for a terrific photo. Hey, "The Song Remains The Same" is playing!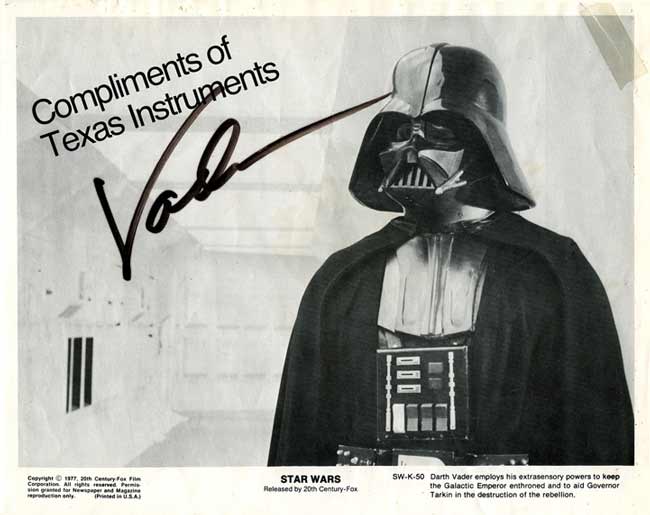 Charles Howell sent in the ultimate collectible, Darth Vader's autograph, Lord Vader rarely signed and of course, died in the "Ewok incident".
Chris Franklin sent in this awesome flyer for a couple of appearances at Hills stores, Captain America and Rom: Space Knight at one and Spider-Man Goblin at the other. Chris saw the Spider-Man Goblin fight, good choice.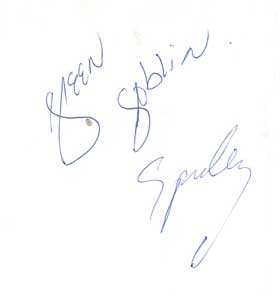 Here is a great memento, Spider-Man and the Green Goblin's autograph, Chris tells me that you should not hand Spider-Man a Batman pen to sign with, sound advice.
JD sent in this classic shot from Lord Vaders visit to the Parmatown Mall in July of 1980, at the time Vader was looking to open an Ohio branch of the Empire.
Charles also sent scans of a promotional comic given out for an appearance by Spider-Man and the Hulk. This is done for the Foley's chain of department stores. He says you can still find these in local comic stores.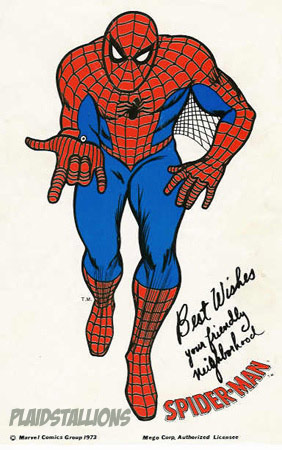 Mego was the king of store promotions in the seventies and often gave kids little momentos such as this Spider-Man autograph, similiar items exist for Planet of the Apes and Wizard of Oz.
Courtesy of Mike Jimenez we have a news clipping of a Mego store appearance to promote the Planet of the Apes line, behind "Doctor Cornelius" is a mego collector's dream.
Much better than a man in a suit, we have the real Lee Majors making an appearance no doubt to promote the Six Million Dollar Man toys he wasn't alone, William Shatner and Lenard Nimoy also conducted similiar tours to promote the Mego Star Trek toys. If anyone has pics, please contact us!.
Bugs Bunny Meets the Superheroes
These are from a stage show that toured the US and UK. I hope to have pictures someday, that Wonder Woman is gorgeous!
David T sent in this interesting shot from "Bugs Bunny Meets the Superheroes", the terrific trio of Batman, Robin and Wonder Woman stand tall while the Looney Tunes characters frollick, it must have been some kind of show....
Another gem courtesy of Lou, here are the villains from "Bugs Bunny Meets the Superheroes". That Joker is creepy!
Continuing our series of flashbacks thanks to my friend Lou's vintage negatives we have a shot of what is the Bugs Bunny portion of the show (click on it for a larger look), a whole stage full of Looney Toons characters. It looks odd now but must have been something to see then
Do you have pictures of a Superheroes appearance from the 70's or early 80's, please drop us a line here .
1976 was a big year for Captain America Appearances
Check out the Superheroes at Sea World Page
Back to Plaid Stallions Article Archive