p>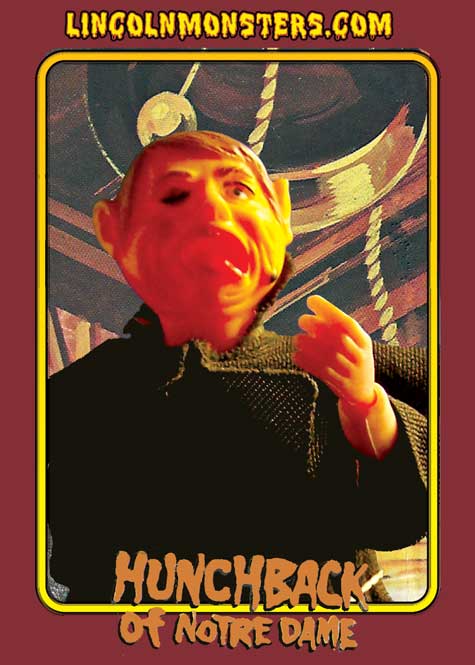 Poor misunderstood Quasimodo, not really a monster and actually a good guy if you think about it but in a child's eyes he looks like a monster so he must be one. lincoln probably chose to make this figure because he was also an Aurora model, out of the three companies producing Monster figures, only Lincoln made a Hunchback.The figure is inspired by the Lon Chaney portrayal but there are subtle changes to it to keep it nice and copyright free. .
The Hunchback is the easiest figure to find packaged, it should come as no surprise that the character didn't sell as well as the other more identifiable monsters. Even the solid box which are generally quite rare, can be had with a little patience.
Carded US Hunchback (I think) again, if you get into collecting these bad boys, this will likely be your "gateway figure".
Loose complete Lincoln Hunchback is naked under that robe, I know you were wondering...
Hunchback really has a hump in the form of a little throw pillow strung to his back, which is actually some nice attention to detail for Lincoln.
Here is a close up of said booties, as I recall as a child they made it hard for him to stand.
Tomlands Variations
Tomland didn't make an 8" version of the Hunchback but he was part of the mini monsters line: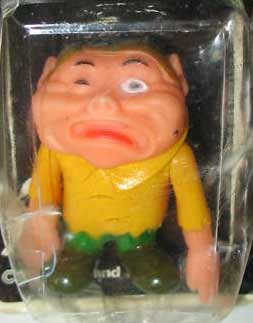 This is the only photo I've ever seen of the Tomland mini monsters Hunchback that was graciously sent me recently. It gives a tiny hint of the packaging, the first I've ever seen.
Visit our new online shop to buy action figures and Publications.
Our book "Rack Toys: Cheap, Crazed Playthings" is a love letter to the Lincoln Monsters.