Originally, I got this figure in a lot from a reputable dealer (and pal) who told me she was part of some mail order offer. It took about four years and the information is below but it's true, she's 100% legit. The "Girl Victim" was thrown into a four pack of Monsters (Mummy, Wolfman, Dracula and Frankenstein) in 1975 as part of an exclusive set offered by Spiegel. Whether Lincoln made this figure or it was thrown in by Galoob (the then distributor) is unknown. Her origins seem to be a Dawn knockoff of some kind.
Perhaps she can be found outside the set but also it's possible she is exclusive to it. As of this writing, two are known to exist, this pretty example above really trumped mine so I've substituted the photo. It's from a recent auction where the only known mailer set in the world exceded my max bid but it went to a good friend, so it all evens out.
Got one for sale? Drop me an email.
Update September 2011, Brice was nice enough to email me this today: " I received a rectangular box which had Dracula, Wolfman, Mummy, Frankenstein, and a nondescript female. As a boy of about 4 I could not for life of me understand why Santa brought me a doll with my monsters. And now I see her in the photo on your site. Wish I had all of those now. Thanks for the photo."
Yay Brice! Thanks for the awesome memories. If anybody else remembers this fantastic catalog offer, I wanna hear it!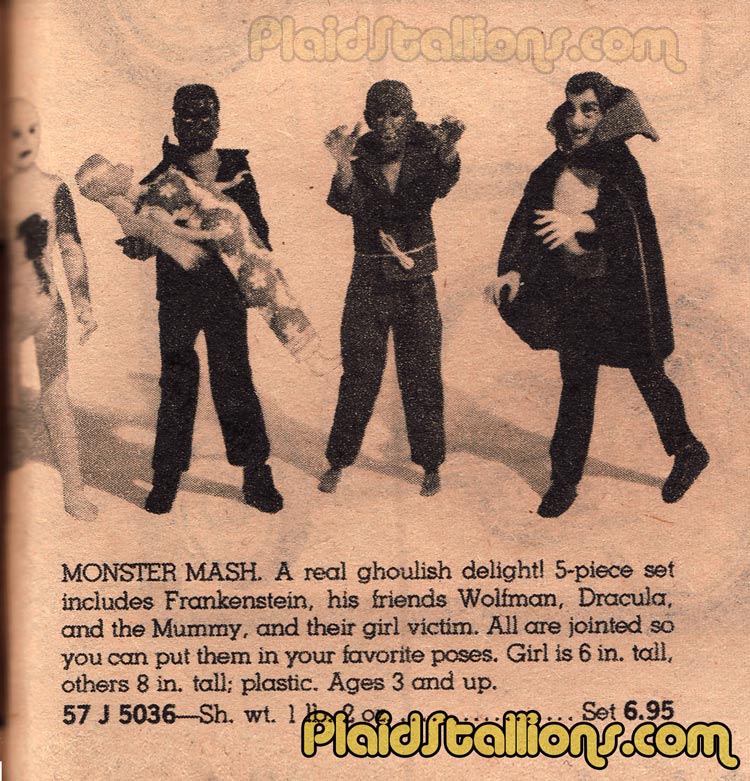 Update: June 2012 Mystery Solved thanks to my pal Corey, who handed me the 1975 Spiegel catalog this weekend. The "girl victim" offer is right there in black and white.
It's amazing that after the kerfuffle caused by the Aurora "Girl Victim" kit of the early 70s (which invoked the wrath of NOW) that Spiegel repeated the whole thing. It's also pretty obvious that she is merely an unsold Dawn knock off of some kind, seeing as she's a whole two inches shorter than the monsters. Nonetheless, I am very pleased to have closure and to find out she was indeed legitimately part of the Lincoln Monsters line.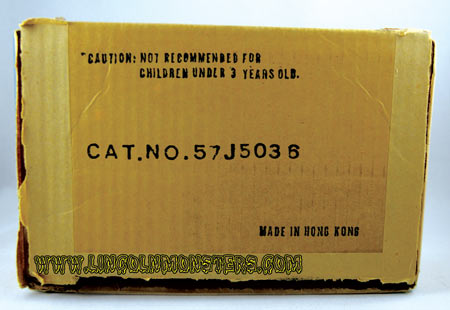 And here is the beautiful albeit plain box all this monster goodness came in.
This is what you got in the Spiegel catalog box, lord knows how they fit in there. This is probably the rarest item in Lincoln Monster collecting next to the solid boxes. I know everything is rare but I've seen more boxed Mummy figures than I have this thing.