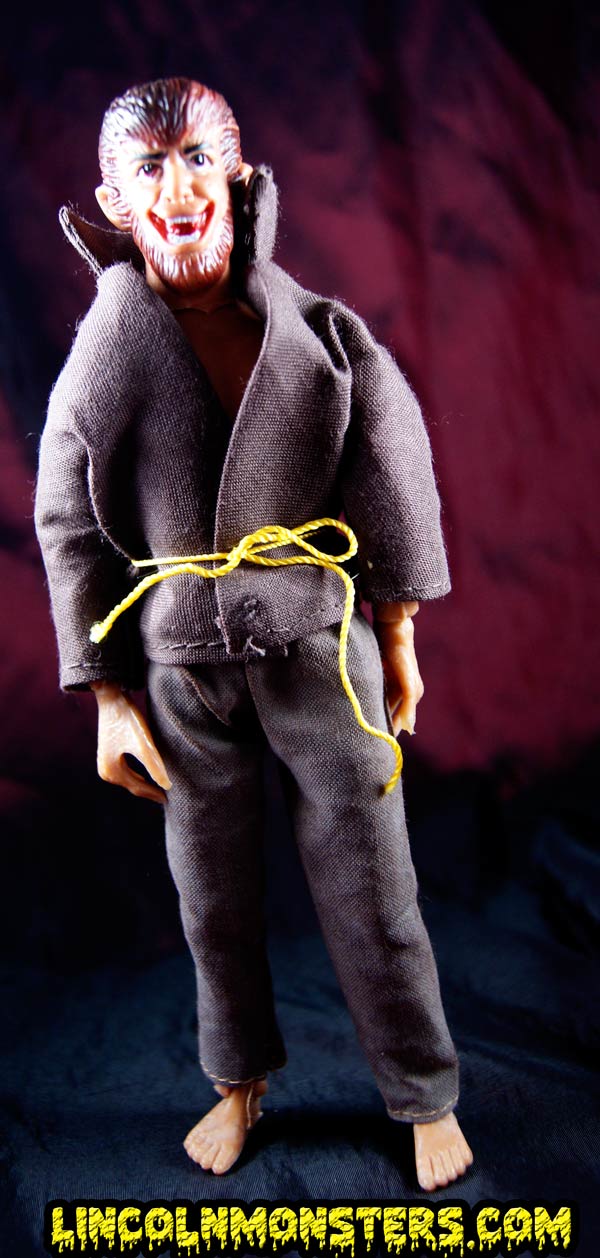 Wolfman is another great example of how this line used cartoonish imagery to appeal to children, his expression seems to be one of glee.
A close up of the foreign solid boxes reveals the wonderful illustration used to promote this line. If you have one of these for sale, please Contact me
Above is an example of a Wolfman on a UK card, the biggest tells are the Wolfman's head paint, the lack of a collar and the torn outfit.
Two loose examples of the Wolfman, one of the best figures in the series. You'll notice that not only the belt varies from white or gold but the head paint on these two guys is a different colour. Obviously they are from different production runs.
Tomlands Variations
The history is sketchy but sometime after Lincoln produced the Monsters, Tomland reused the headsculpts for a series of four action figures as well as some mini monster figures. The colour schemes had changed but the figures kept that same kooky style they always had. Below is the Tomland Mini Monsters Wolfman, who just rocks that look:
Below is a picture of the elusive Tomland Wolfman, now with Star Raiders hands and glow in the dark parts, if you have one for sale please contact me.
Above a comparison shot of Lincoln Wolfman along with the Tomland Mini Monster and the 8" FMOL Wolfman, neat-o!
For more on Tomland wolfman, please visit the Famous Monsters of Legend Archive