Larami Rack Toys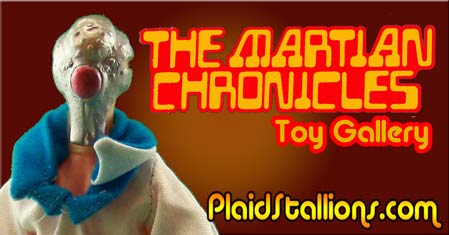 In the late seventies, Charles Fries productions (the same people who brought you the TV version of Spider-Man) undertook an ambitious project, bringing Ray Bradbury's acclaimed book of short stories "The Martian Chronicles" to Television as a 6 hour event.
The names involved were a Science Fiction fans dream, Richard Matheson wrote the screenplay and it was directed by Michael Anderson, director of Logan's Run. The cast included genre veterans such as Darren McGavin, Roddy McDowell, Nicholas Hammond (TV's Spider-Man), Barry Morse, Bernie Casey, Jon Finch, Michael Anderson Jr (Doc from Logan's Run) and the series was tied together by the character Col. John Wilder, played by Rock Hudson.
The mini series premiered 30 years ago this January (yikes!) and was met with mixed reviews, the harshest critic being Ray Bradbury himself but personally, despite it's slowness in points, I think overall it's a terrific attempt and I love it's style.
Still, I find it weird that Rack Toy Manufacturer Larami decided that this was the property to go forward and make some action figures with. To my knowledge the company hadn't delved there before. Despite the fact that Star Wars figures were all the rage, Larami chose to go the Mego route and produce three 8" figures all based on the Martian designs. Going so far as to rip off the an outfit from the Mego Star Trek aliens line, these little touchs give the line a mid seventies feel.
The Martian figures have no names but all are based on mask designs the Martians wore in the series, the figure above isn't really a Martian at all. In the first installment, Col. Jeff Spender "goes native" on his landing party killing them off while wearing this Martian battle mask. So really what we have here is an action figure of Bernie Casey.
This is the second, let's call him the "Pink Martian" this mask appeared in the second episode and only briefly as Darren McGavin's character shoots him!
The eery mask of the "Blue Martian" is seen in the first fifteen minutes of the series, a jealous husband who dons this mask in order to kill the first expedition.
Carded Blue Martian, the artwork is generis although the artwork is really quite nice.
Carded Orange Martian, the cards in this series are very flimsy and the bubbles are prone to simply falling off thanks to the glue drying up.
Visit the Larami Rack Toys Gallery for More
Back to the world of Rack Toys Index
AHI (Azrak Hamway) Page- Imperial Page Fleetwood Page