I've always a softspot for Tarzan, most likely because of the cool Filmation cartoon series of the 70's and the fact that my father used to watch them all the time and riff on the goofier ones. Recently, I began to notice that I have been subconciously building a Tarzan collection, so i thought what better thing to do than showcase it here?
This aurora Tarzan Model is one of my favourites, the paintjob is by my friend Brian. Check out his paintings here.
I haven't had many additions to our Tarzan Toy Gallery in a long while but this figure is a pretty big deal to me. It's made in Spain (possibly by Vicma) and I missed a carded one last year (and I didn't manage to save the auction photos) but the card art seemed to suggest that it's based on the Filmation series.
If I recall correctly, this figure is missing the little Nikyma that it came with. If anybody has a carded one that they would like to share, I'd be in your debt.
I absolutely LOVE stuff like this, even as a kid I couldn't have spent my $1.29 quicker. A lot of what I bought for the book, I sold off but this one I kept. There is another version with the Phantom that I need to track down.
DC comics snatched the Tarzan license away from Western Publshing in the early seventies so that Joe Kubert could do his stuff. This early DC digest features Kubert art on the cover but the interior is by Russ Manning, not that I'm complaining.
Mego was the king of action figures in the 70's and what better a company for the Lord of the Jungle? Mego's VP of Research and Development Neal Kublan was a fan of Tarzan and chose him early for the World's Greatest Superhero line. Tarzan was the first to be cut from the team however, lasting long enough to be released in a window box and a Kresge Card.
In Mexico, Toy Maker Lili Ledy licensed the Superheroes from Mego and created this fist fighting version of Tarzan. Unlike the US version, Tarzan is the top of the food chain when it comes to rarity and value.
Tarzan was around long enough at Mego to get into their Superhero Bend N Flex line of toys and lucky for me he's the cheapest to find carded!
After Mego's license expired, Mattel stepped up to the plate with this figure, he uses a Big Jim Body and benefits from having Kung Fu Grip. Easily one of my favourite action figures of all time.
Some new additions to the page dedicated to Tarzan Toys this week, thia Jungle Communicator is by Fleetwood, who have their own gallery in the Rack Toys section (Zing!, a double update!)
This little guy is from a company called Gulliver from Brazil. Gulliver made some really cool 2" figures based on both the DC and Marvel Superheroes that I wish I owned.
This animation cel is what I look at while work on this site, one of my favourite pieces in my collection.
My friend Mark gave me this piece recently, I think it's from Comics Spain and made in the eighties. I had just ribbed him about buying a dollhouse from "Sailor Moon" when he reminded me that I collect action figures of a man in a loin cloth, touche!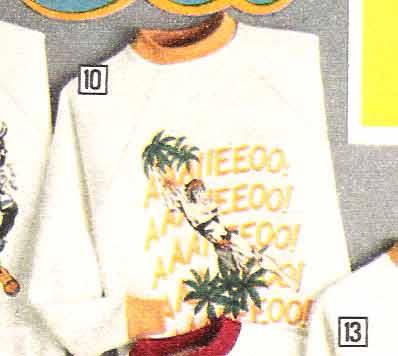 Here;s something I don't own but would like to, this vintage Tarzan Shirt was a neat find in a Sears Catalog among the usual Batman and Six Million Dollar Man items
Visit the Plaid Stallions Blog for a daily dose of polyester