1975 Mighty Marvel Mail Order Catalog
This wonderful package was likely handed to every attendee of the 1975 Marvel Comics Convention it includes a program which we'll get into but it also includes the Might Marvel Mail Order Catalog.
This wonderful catalog features Marvel merchandise from Fleetwood, Mego. Durham, Aurora and more. The historical signifigance is that Marvel would eventually abandon the mail order practice and selling it to the man who created it, Ivan Snyder. Ivan would then move the business to New Jersey and call it "Heroes World"
Remember when Superhero shirts were kind of hard to find?
The Mego dolls ad is why i bought this, I had all of the ones available.
I really want a Luke Cage tie. Those Superhero Statues were produced by Fleetwood toys, they were smaller versions of the Marx figures but they were painted, I really wish I had a set.
Oh man, I'd have loved to attended this.
I think i own all of these now, Treasury Editions are my jam.
The legendary talent on this very page is amazing and I'd even have attended the Planet of the Apes slideshow.
I'd like to subscribe to "Giant Size Man Thing" please.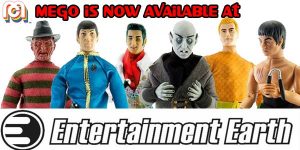 .
.