Article Archive - Contact - PlaidStallions at MySpace - The PlaidStallions Daily Blog

Imperial Puffy Sticker Catalog from 1980

If you were a kid in the late seventies/early eighties, chances are you remember the puffy sticker craze. These colourful things were awfully addictive and one of the bigger players was Imperial Toys who created some memorable lines, even when they didn't have the license!
These "Star Stickers" were walking pretty close to copyright infringement, especially that Falcon and Cantina guy. I remember these well, my best friend at the time had a set and was the envy of the class.
Here are two of my favourite shows at the time, Buck Rogers and the Super Seven. I need to get my hands on those, I mean how much Web Woman or Manta and Moray Merchandise was there?.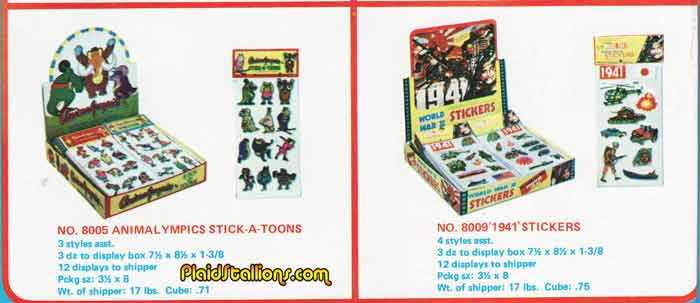 I find the idea of stickers based on Steven Spielberg's bomb "1941" completely absurd. I mean did kids really want a puffy sticker of John Belushi, as an adult I want one but really....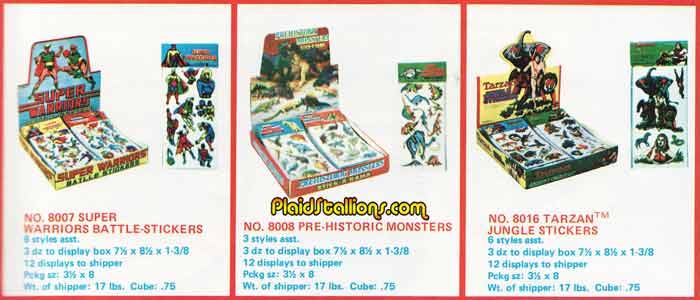 Generic Superheroes, Dinosaurs and Tarzan, these were pretty much all the thoughts I would have in a day as a kid. I had these Superhero ones, we just pretended they were characters like Hawkman and the Flash.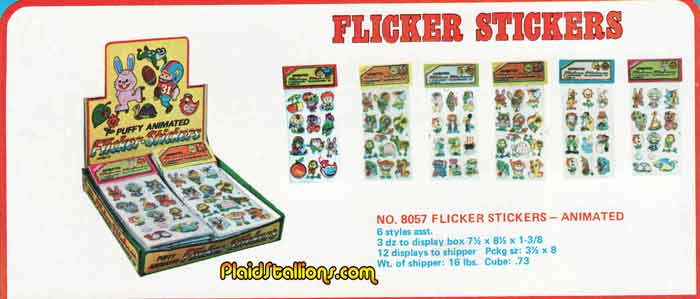 Lenticular or flicker stickers..

Wire racks full of puffy stickers, I'd love to find one of these today..
Woody Woodpecker used to be an afternoon and Saturday morning staple, strangely enough I ended up making some Woody Woodpecker stickers a few years ago, kids aren't as hip to the character these days, trust me on that one......
Googly eyes make everything more fun, unless one falls off, then it's creepy and dark.
Seasonal stickers are a staple of any good company.

Back to the world of Rack Toys Index

AHI Page- Imperial Page Fleetwood Page

Super Happy Fun Links from PlaidStallions