The Cyclops certainly is a character of legend as the card suggests, his origins tracing back to Greek mythology. However, the figure's design owes a little more to the work of Ray Harryhausen than Homer, like the Savee swiped card art this Cyclops is based on the 7th Voyage of Sinbad. Savee altered the Harryhausen design by giving him pants and Tomland went further with a jacket/ascot combination. What was with them and the ascots? Are monsters typically dated dressers?
The Cyclops was also sold as "Ridal" in the Star Raiders line, click here to visit that page in the Tomland Star Raiders Gallery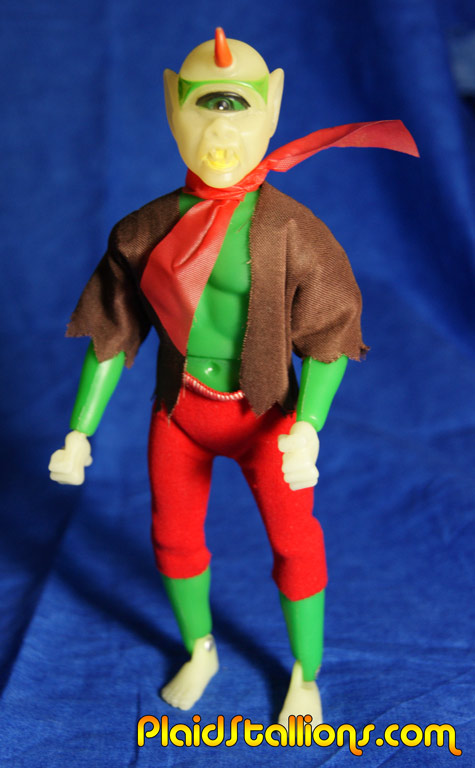 Second series glow Cyclops hasn't been found carded yet, even his Star Raiders version is difficult to find packaged.
Presumably there is a Tomland Mini Monster of the Cyclops, he has not been located to my knowledge.
This gallery is a work in progress and could use your help If you have figures, cards or items we don't and would like to share them (or sell them) Please drop us a line!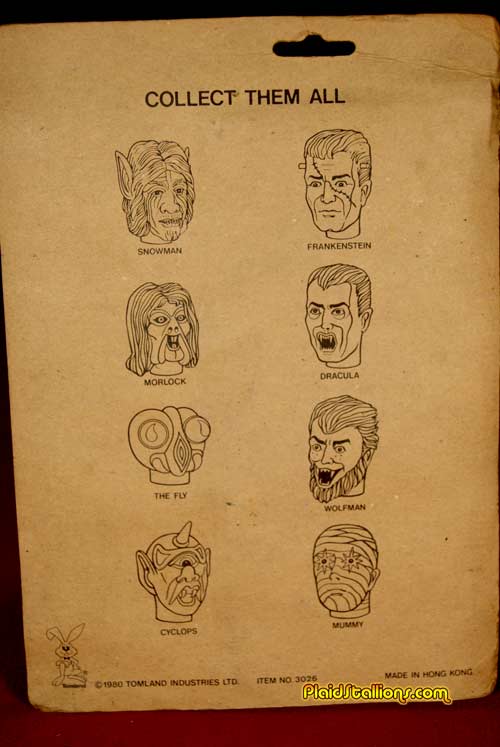 More on Tomland and 70s Monster Dolls
My buddy Lou has a wonderful website called Megolike that discusses these and other knock off figures.
It seems Tomland and Lincoln International had some sort of connection as they both releasedversions of these Monster Action Figures.
Visit our new online shop to buy action figures and Publications.
Our book "Rack Toys: Cheap, Crazed Playthings" is a love letter to toys produced by Tomland.