Tomland (a UK Company who was in the Marx family of companies) produced a number of 8 inch "mego like" products during the 1970s, they never appeared to be licensed and always seemed to be copying popular trends such as Monsters, Space Aliens (namely their Star Raiders and Creatures from Other Worlds lines), they even made their own version of the Six Million Dollar Man at one point!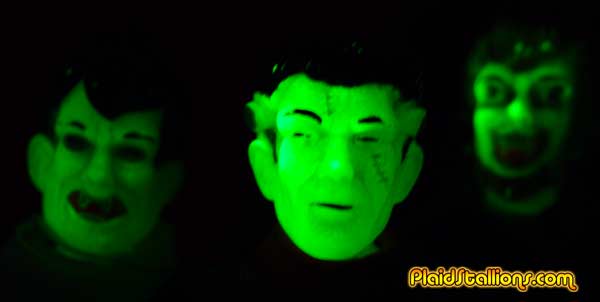 The Famous Monsters of Legend were an attempt to gain some ground in the early 1970s monster merchandise explosion lead by toymakers like Mego and Azrak Hamway International (AHI), two series were produced with what seems like a few years gap between them.
SERIES ONE
The first and easiest series to find consisted of four figures. Unlike other toy companies who were producing licensed and unlicensed versions of the "Big Four" monsters, Tomland smartly went down another path and made some characters that hadn't seen any merchandise. Although the line claims they are monsters of "Legend", they are mostly mined from the movies. Only the Abominable Snowman can really be seen as a character of Legend. The others in the set, consisting of The Fly, The Cyclops (from the 7th Voyage of Sinbad) and the Morlock (from the time machine) do not appear to be licensed in any way.
Also more curious is the card artwork, which is obviously swiped from Mark Savee's wonderful Monster Gallery Coloring Book Certain elements of the figures design (such as the hands) seems to suggest that Savee's art also served as the basic design of the figures themselves..
Series one was widely available at K Mart and many of the cards bear the SS Kresge information (because Kresge purchased FOB, a lot of their toy product bore their logo).
SERIES TWO
Series two seems to have been produced around 1981 as packaging has a 1980 copyright date and may have been produced in reaction the Remco Monster Line that began in 1980. This is conjecture on my part but Tomland liked to copy trends.
All of the figures from series one were brought back now in glow in the dark form (Series Two of the Star Raiders line was also glow in the dark and included the first four FMOL figures) and series two also brought four new characters in the form of Frankenstein, The Wolfman, Mummy and Dracula.
The classic monsters all seemed to have copied from the Lincoln Monsters line, it's not known if this was an agreement between the companies or merely more copying. An attempt to make the head sculpts distinct is apparent as all of the characters have differences.
Series two featured all new card art as well that did not copy Savee.
Production and distribution on this series is thought to be far more limited than series one, many of the samples pop up in either Europe or South American countries. Rarely are they found in North America.
This gallery is a work in progress and could use your help If you have figures, cards or items we don't and would like to share them (or sell them) Please drop us a line!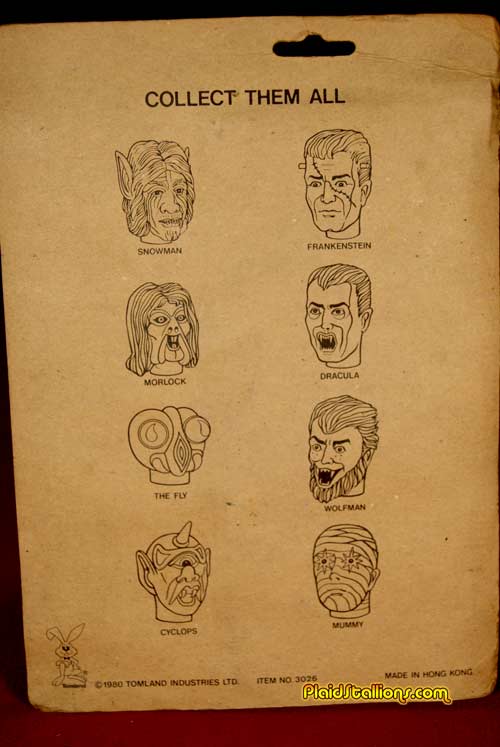 More on Tomland and 70s Monster Dolls
My buddy Lou has a wonderful website called Megolike that discusses these and other knock off figures.
It seems Tomland and Lincoln International had some sort of connection as they both releasedversions of these Monster Action Figures.
Visit our new online shop to buy action figures and Publications.
Our book "Rack Toys: Cheap, Crazed Playthings" is a love letter to toys produced by Tomland.