Tomland Fly on a Kresge card (the price sticker is printed on it's card), all four of the FMOL have this card variation. The Fly also has an outfit variation, it either comes in tan or white. Despite being obviously based in the 20th Century Fox film, no copyright appears on the package.
The Fly was also sold as "OOV" in the Star Raiders line, click here to visit that page in the Tomland Star Raiders Gallery
This is a second series glow in the dark version of the Fly. Most of the loose glow in the dark fly figures found are actually Oov from the Star Raiders. There is no difference in the figures otherwise, the card is the only distinction.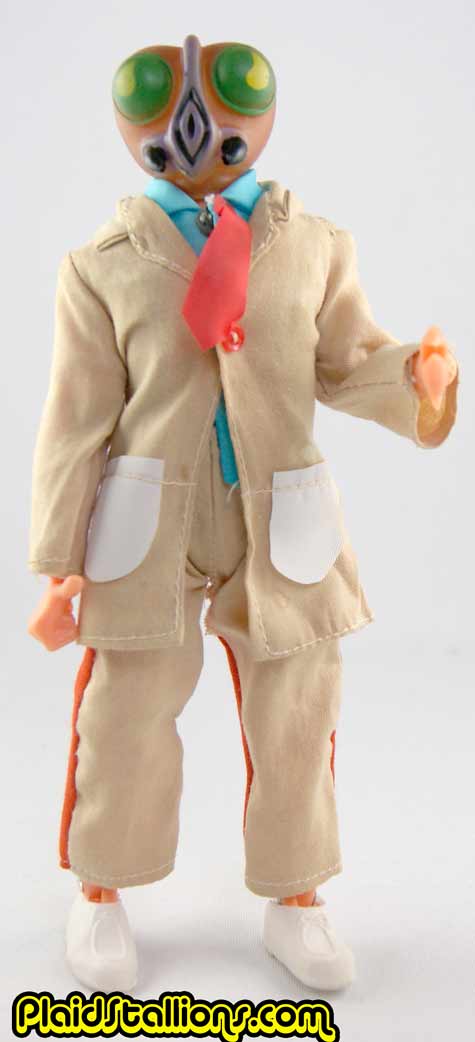 Here is a regular edition loose Oov/Fly.
The glow in the dark second series Fly on the card, not many samples exist and the ones that do are in private collections. The card art is somewhat unique in that is just a reversed swip of the Savee artwork yet again, while other artwork for this line has largely been original.
This gallery is a work in progress and could use your help If you have figures, cards or items we don't and would like to share them (or sell them) Please drop us a line!
More on the Star Raiders/Tomland
My buddy Lou has a wonderful website called Megolike that discusses these and other knock off figures.
Toymania has a gallery on the smaller Starroid Raiders that Tomland also made.
It seems Tomland and Lincoln International had some sort of connection as they both releasedversions of these Monster Action Figures.
Visit our new online shop to buy action figures and Publications.
Our book "Rack Toys: Cheap, Crazed Playthings" is a love letter to toys produced by Tomland.